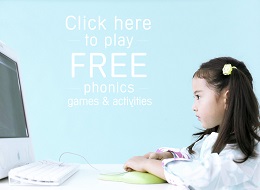 Phonics, Sounds, and Spellings:
ABCD Watermelon
Kangaroo Confusion
Postcards to Learn Vowel Phonemes
Reading Bear
Reading Lessons
Sandcastle Quiz - Choose the Correct Spellings for Phonemes
Sky Riding
Starfall Letter Sounds
Words and Pictures - Long Vowel Poems
Word Wheel 2
Phonological Awareness (hearing the sounds):
Practice with Syllables
Pumpkin Patch
Sassy Seals
Space Spins
The Quiet Machine
Reading Comprehension:
Guess Who
How to Build a Snowman
Kid's Lab Tutorials and Practice
Reading Ring
Wall of Words
What's My Mark?
What's the Big Idea?
Vocabulary:
Ball Hogs
Choose a Prefix
Correct Spelling of a Word in Context
Define the Word
Direct Definition Context Clues Tutorial
Flood! - Which Words Go Together?
More Synonyms
Prefixes and Suffixes
Prefixes Make New Words
Squanky The Tooth Fairy
Synonym Sam's Lab
The Good, Better, Best Trampolini Game
Word Play
K5 Learning
is an amazing online site that teaches and allows a child to practice reading, math, math facts, and spelling. There's a free trial available. It would be great if you used the code BREUM when signing up to give me credit for sending you their way. The price is $25 per month for one child and $15 per month for each additional child, or $199 per year for one child and $129 per year for each additional child.